"Brian and I had a spectacular time in the Loire Valley with Laurent. His knowledge of Chartres cathedral was inexhaustible and didn't we have a wonderful time at the Musée d'Orsay? He knew just how to circumvent the crowds to see the major works in the limited time we had. We loved everything about our trip including sharing our bottle of wine from Vouvray vineyard that we visited, our tour of Chambord, and sharing lunches occasionally at little cafes. We highly recommend him to travelers who really want to know Paris, the Loire Valley, and France as a whole."
Katie and Brian Hartwell - Grosse Ile, Michigan - May 2017.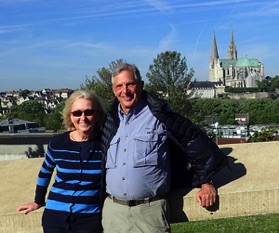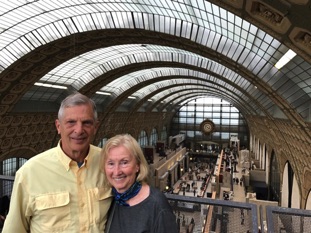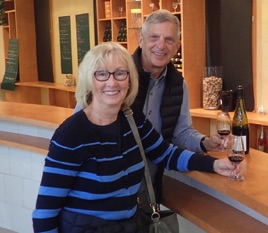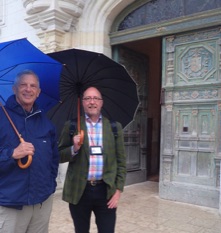 More testimonials will be added soon!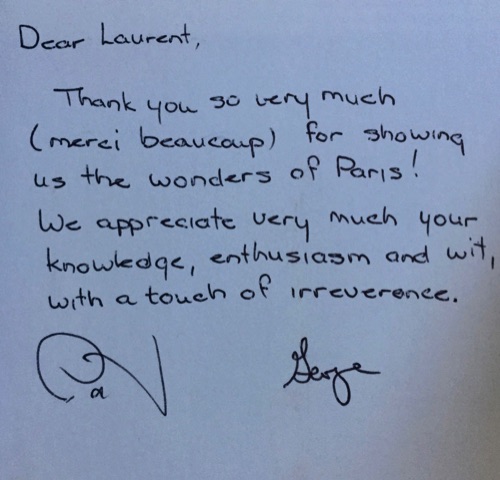 Pat and George Stewart - Columbia, Missouri - June 2018.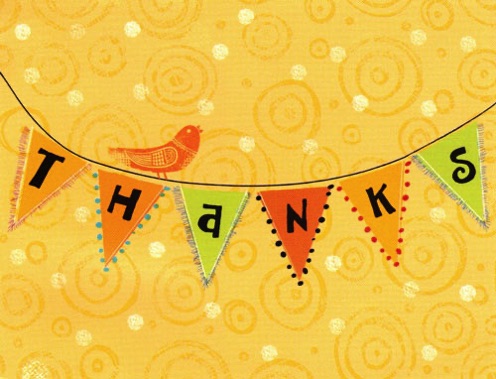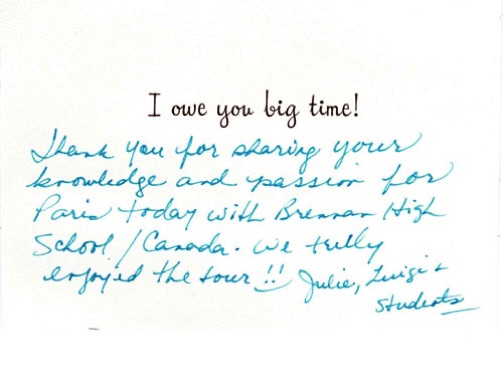 April 2016? (I can't remember).
"Laurent, I just wanted to thank you for your wonderful Vincent Van Gogh tour to Auvers-sur-Oise. Kent and I really enjoyed it. Your knowledge and enthusiasm made it a special day. Seeing where he lived and painted his last days, helped me to imagine what the last part of his life was like.Thank you so much again for such a special day."
Lainey and Kent Barber - Florida - October 2016.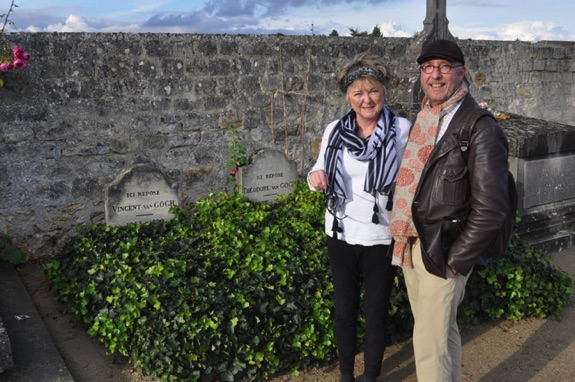 "I am an American teacher of French who has lived in the country and have now led more than 10 different student groups to Europe. I first met Laurent 15 years ago while traveling with 24 high school students through Germany, Switzerland, Italy and France. Laurent was the local guide provided by the company we were using at the time. Laurent took us to Versailles, and during that excursion, I overheard one of my students say to his friends in regards to our wonderful guide: "Man, if only this guy had been with us the whole trip!" A guide who can captivate tired teenagers at the end of an exhausting whirlwind tour of Europe? Invaluable! Since then, Laurent has worked with us every time we have come to Paris (every other spring).
I have been on countless guided tours of sites in Europe and it is easy for me to explain why Laurent is the best. First, his English is excellent – it takes no work on the part of the listener to follow, which is not the case with many French natives. Secondly, his tours are not simple recitations of facts, as one often encounters. He is a great storyteller, focusing on the most interesting aspects of a site and adapting the information to the group's interests. His knowledge base is huge – he can answer any question you ask. Finally, he also recommends places to eat, to shop etc. that will make your visit more authentic. You will learn about how Parisians actually live. It all adds up to making you feel more like an insider in Paris and leaving with a lot more knowledge than if you visit the city without a guide.
After trips, even years later, my students reminisce about Laurent and his tours and remember them as a highlight
of their trip to France. Knowing that Laurent is waiting for us, I always feel more relaxed and excited about bringing two dozen American teenagers to Paris!"
J.Geisinger, French teacher - Fishers, Indiana - March 2019.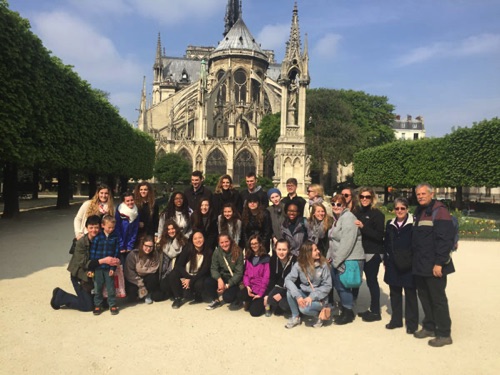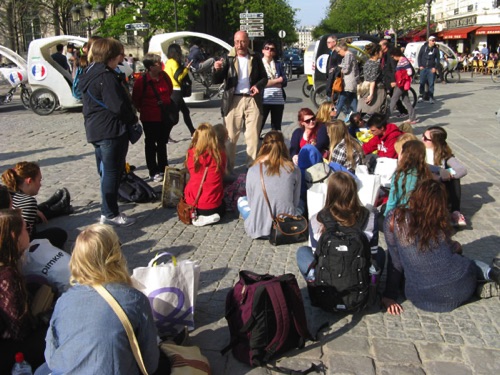 A Knowledgeable Professional Who Quickly Became a Friend of the Family
Our family (Mom, Dad, Son, Daughter-in-law, Son, Girlfriend) arrived in Paris on a Saturday and started touring with Laurent that afternoon. We hit the streets running! Laurent quickly made us knowledgeable so we could navigate the Metro & RER (trains). And his knowledge of the areas we visited was informative, extensive and enjoyable! These were conversations, not lectures.The next day Laurent was our guide for an early morning tour at Versailles. We took the train from the station near our hotel and he shared so much history during the ride. On other days he also guided us at the Louvre, Orsay, Invalides, Montmartre. His knowledge of art history, techniques and museum highlights made each location a wonderful experience. We have a group photo with Laurent - it has become a favorite reminder of our entire trip!
We can't say enough of Laurent's professionalism, knowledge and ability to make us all feel at home even though we were so far away. When we return to France he will be our man. Thanks Laurent!!!
Ron & Joyce Paprocki, Jon, Kristina, Matt & Becca - Chicago, Illinois - March 2019.
Missing Paris so much already! We all had the best time and cannot thank you enough for making our trip so incredible. It would not have been the same without you! I have attached the pictures we took with you here!
We hope to keep in touch and eventually plan a trip to the French Riviera!
Rebecca Prekwas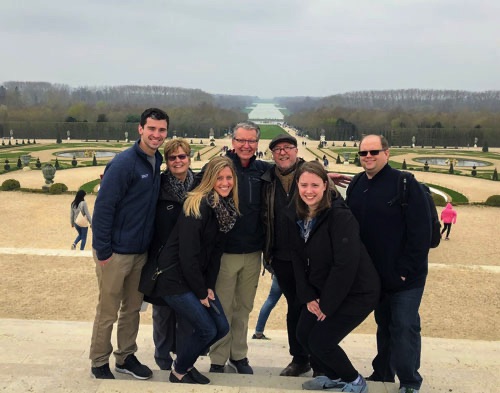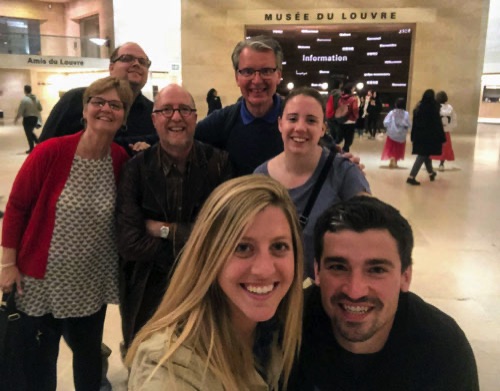 It is with great delight that I have learned of LAURENT GUARIGLIA's new website offering the best service for those wishing to know the REAL France! I am writing this voluntarily, for it is my opinion that Laurent ("Larry from Paree") is the absolute BEST personal, hands-on travel guide for exploring one of the most fascinating countries on the planet. I speak from experience! I taught French for over forty years in the public schools of Vermont and New Jersey and in all that time I organized no fewer than ten student trips to France. During our 1993 trip, the sixth for me, Laurent was assigned to our group for several tours of Paris. Several things impressed me, not the least of which was his colloquial use of the English language. Although there are many English-speaking guides available in Paris, many of them accent the wrong syllables in English and speak with a non-English rhythm, which makes it hard to understand them. Not so with Laurent, whose use of English is almost native, marked with what I like to call a "Maurice-Chevalier" lilt to his speech patterns! (That reference is for you oldsters!)
Beyond his linguistic skills, I noted immediately the depth of Laurent's knowledge of art, literature, geography and history, among other attributes which go into making a superior travel guide. He impressed me especially with his knowledge of the history shared by the United States and France (yes, lest we forget, America's oldest ally!).
Aside from his superior knowledge of all things French, as well as his ability to blend other elements into his presentations, Laurent is hard-working, prompt and invariably polite. His talks are often laced with anecdotes and humorous asides. I have seen him go "beyond and above" the call of duty in his efforts to please his clients. He loves his work and takes his responsibilities seriously. I requested Laurent from his former agency during every one of my subsequent student trips to France before my retirement a few years ago. Since retirement, I have not failed to recommend him to many of my closest friends as well as to the French teacher who took my place. Every single person I advised to travel with Laurent came back praising his work; many felt they had gotten to know Paris and other areas of France extremely well.
It is in this vein that I have written this testimonial (again, I repeat, VOLUNTARILY). It has always been my belief that excellence should be recognized and Laurent's work is excellent "par excellence"!
Nicholas Andrian - Hampton, New Jersey
"We had the best time with Laurent! It was like touring with a friend. Super knowledgeable. Entertaining. Funny. Fluid English. We have recommended him to friends and will tour with him again when we return. Highly recommended! You will not be disappointed! He's the best!"
Brad and Chris Anthony - Chicago, Illinois - May 2018.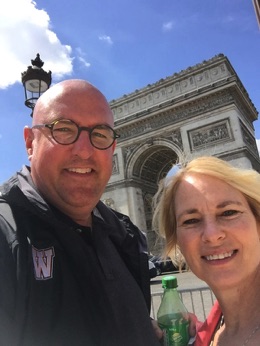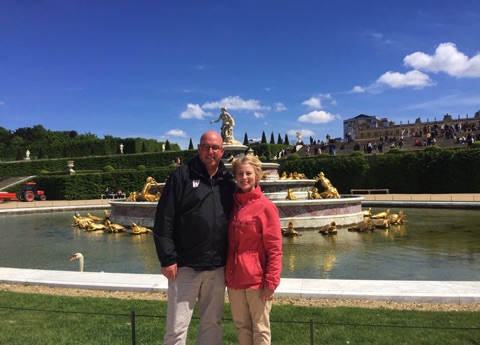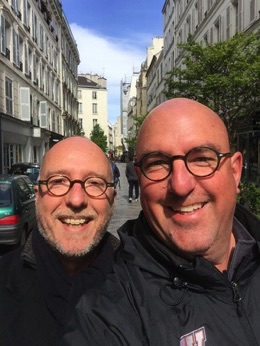 "I am sixty and my husband is eighty - we are in great health but my husband has some issues with eyesight that have rendered him less sure footed. We wanted to see the best of Paris, but at our own pace. After online discussions with Laurent prior to our arrival, he suggested we tour using his driver and black Mercedes SUV so we could get out and in at each stop at our own pace. Indeed on that day the driver pulled up to a historical site, we got out smack in front and after we had walked around with Laurent who would brilliantly weave together historic significance with the real story, he'd text our driver to swoop in and get us. It was the perfect way for us to see EVERYTHING in the whole of Paris without concern for parking or slowly exiting a bus full of people. We spent hours moving about the city and Laurent put it all into perspective for us. It was the perfect first time tour for anyone!
For our second day together, Laurent planned a trip to two Champagne wineries near Epernay, same way, using his driver and black Mercedes SUV. Best day ever…  sunshine, gorgeous vineyards, laughter, sipping fine champagne, a Michelin star bistro lunch… ahhhhmazzzzing.
For our third day, Laurent was a ray of light in showing us the best of the Louvre - we laughed, we learned, we discovered so much we would have missed had we not had the insider touch. I highly recommend Laurent, I could not imagine a better personal guide for this beautiful city. Laurent is your long lost cousin from France. You can email him with a short description of what you would like to do and he will put together a trip that suits your unique scenario - or tell him about yourself and he will suggest something wonderful. I now consider Laurent a good friend and I cannot stress strongly enough how much his personality and knowledge of history will add to your overall trip. Laurent Guariglia offers the ideal marriage of history and character. Bravo my friend: you leveled up our vacation to Trip of a Lifetime!"
Susan and Ty Leach - Scottsdale, Arizona - November 2021.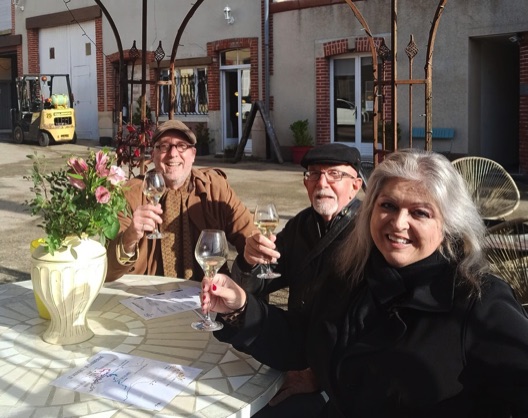 "My husband and I enjoy traveling and experiencing the culture, history and "vibe" of different destinations and have found that a private guide makes the experience so much better. Laurent is among the best we have encountered anywhere!  We had the good fortune to have Laurent as our guide for three days in France. He has an amazing ability to make history come to life as he did on our day trip to Chartres Cathedral. He offered in-depth insights on architectural design as well as the beautiful stained glass windows. In addition to his almost encyclopedic knowledge of French history, he is equally conversant in all things related to art and culture – the private tour of the Opera Garnier was one of the highlights of our time in Paris. He was incredibly gracious with his recommendations for the best places to go for dinner and cocktails . . . we got to experience French cuisine as if we were locals. We had such a wonderful time, we are planning our next trip to the South of France with Laurent!"
Sherri and Richard Bowman - Ewing, New Jersey - December 2021.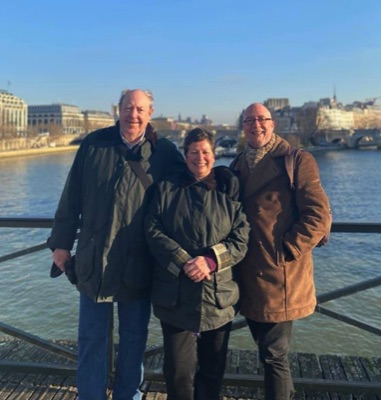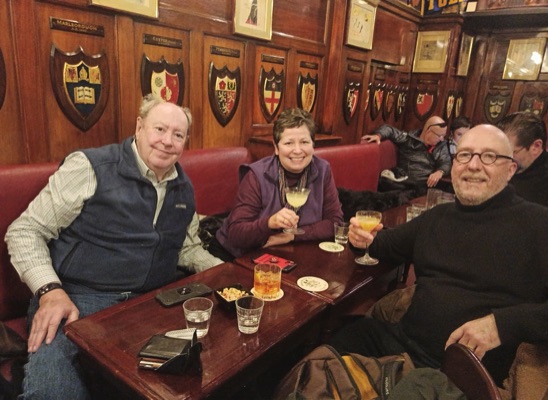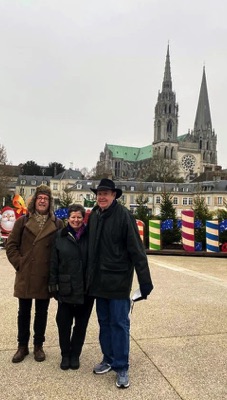 "I met Laurent via social media from a friend. I was headed to Paris to celebrate my sons 21st Birthday and only had five days to truly experience Paris. We wanted the best of both worlds tourist and local. Laurent made that happen and more! From the mini bus full day tour which allowed us to see all the tourist sights and get the instagram shots. 
Also on that day the Catacombs tour was so cool. His special cemetery tour was super fun too. At Versailles and The Louvre, he shared the history, the stories behind the art and made it fun. Not to mention all the great restaurant picks!
Thanks to Laurent we had a trip we will never forget. "
Susan and Jake Wyant - Los Angeles, California - February 2022.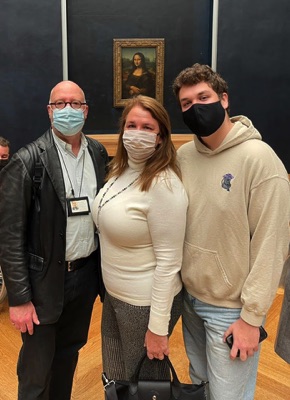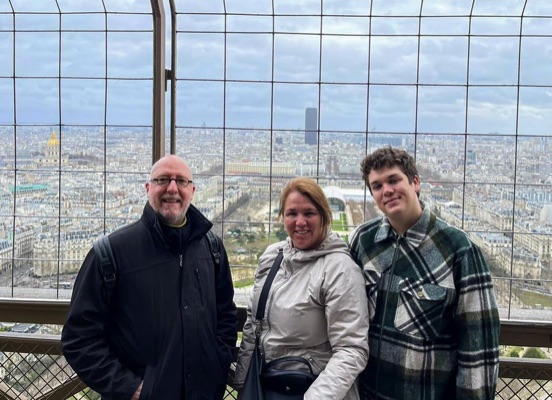 On Hemingway's footsteps at Harry's bar!