The Louvre is more than a museum: it's a palace, it's a town/world of its own. It used to be so crowded (10.2 million visitors in 2018 like shown on picture above) but in 2021 it received only 2.8 million visitors because most foreigners were still sadly absent... Anyway, crowded or not, the Louvre can be very intimidating. Best time to visit is at 9 am at the opening, or after 6 pm on Wednesdays and Fridays as it's late night opening until 9.45 pm. Not only is it then less crowded (there are almost no group tours) but you can do something else during the day. Late night openings are suspended until further notice...
So, how can one see everything which is visible inside the Louvre anyway? The thing is: you can't, it's impossible.
There are 35,000 works of art inside the Louvre. I calculated that if you spend one minute in front of each work of art, you'll need 24 days non-stop.
My orientation tour of the Louvre, which includes all the famous masterpieces (Mona Lisa + Venus de Milo + Winged Victory) + many other pieces that I enjoy commenting on, takes about two hours. Now, if you really are a museum aficionado and you want to see more than most, I can easily entertain you for a couple more hours by bringing you to the new furniture rooms (inaugurated in 2014) which are exquisite, then we can go to the new wing inaugurated in 1993, completely remodelled by I.M. Pei, where we can see what is known as the "Napoleon the third's appartments", most of the French paintings (David, Delacroix, Le Brun, Boucher…), the Flemish paintings (Rembrandt, Rubens,
Van Dyck…) and many more! One of the good things, when you have your own guide, is that you can play the game « stop or encore ».
Now, I used to say on this very page that, when you've had enough, we can take a break for lunch and then we can go back in, but not anymore! Very sadly, since 2021, your ticket is no longer valid all day: once you exit (back under the main pyramid), you cannot go back in unless you have another time-slot together with another ticket that you've paid for a second time! And even if you buy a museum pass (which I used to recommend), it will now allow you only "one single admission to each museum"! All this means that, if you plan to spend the wole day inside the Louvre, you will have to remain inside and fast because all the restaurants of the Richelieu wing are "temporarily closed" and the only café open (Café Mollien, near Mona Lisa) only has tiny snacks (if you don't mind lining up for hours to get one).
Of course, you could bring your own food, but you are not allowed to eat it inside. Darn!
My best recommendation if you want to spend a lot of time inside the museum: have an early lunch and spend the rest of the day inside the exhibition rooms until they close. This is the story so far. Stay tuned.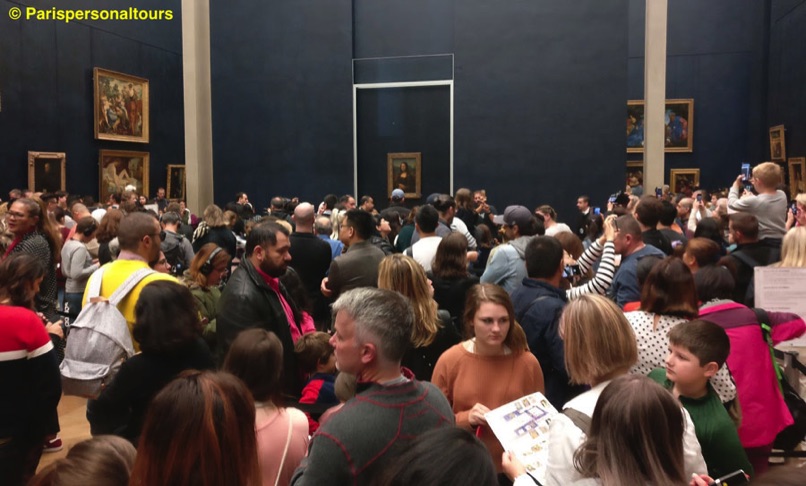 (Page updated in January 2022)