OK. Here's the deal: I don't normally do night tours anymore because
1) I work during the day already and that's plenty enough.
2) I don't like driving inside Paris any better at night than during the day.
3) there's never been anything better in every-day-life than quality time with family/friends/oneself in the evenings.
But, you know me (and if you don't, you should), I'm a man of paradoxes so it could happen that, if you hire me for a day tour, if I'm in the mood and if you manage to talk me into it, I could possibly come up with a little "Paris illuminations" sightseeing tour with a lot of picture stops including of course the one for the Eiffel Tower at the precise moment where it glitters for 5 minutes (every hour on the hour). It's like magic, I swear (I fall for it every single time... but that's also because I live in the suburbs and I don't get to see the lights that often).
And, depending on the time we have, we could also include a little walk in Montmartre, and I could then
drop you off at the Moulin Rouge or at the Crazy Horse or something...
And if you go to the Crazy Horse I may join you because it's been more than 2 years since I've been there and that's a too long time if you ask me... Because the show at the Crazy Horse is an ode to beauty and to the eternal feminine. It's a succession of erotic dances punctuated by hundreds of "tableaux vivants". Beautiful faces,
beautiful bodies and a superb choreography (in fact there is far less strip-tease than there is erotic dancing).
A woman doesn't necessarily need to have a perfect body to be beautiful (hell no!),
but when perfection meets performance, you can only bow. (Can you tell I like the show?).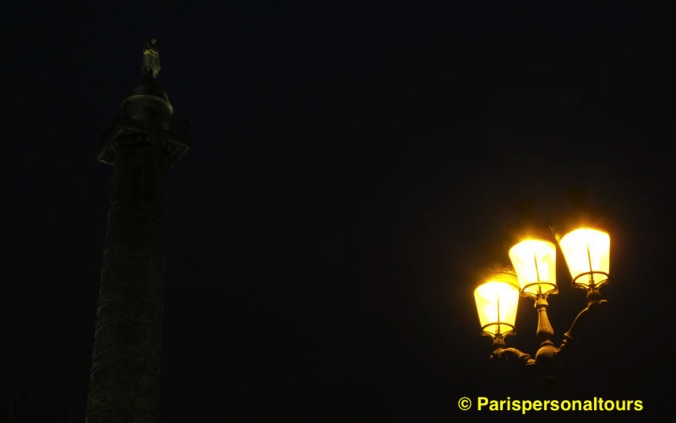 It's a 2h30 cruise (versus one hour for the regular cruise). Not only do you go at a slower pace but you get to see more because the itinerary is longer and it's one of the few cruises where you get to see, go around and take great pictures of our statue of liberty! Go for the late cruise (8.30 PM) at Bateaux Parisiens. Choose the "Privilege" or "Premier" service: they don't come cheap but the seats, the food and the wines are so much better than the other options (and you don't want to spoil your last night in Paris, do you?). Honestly you won't regret it. Except that when I was there last time in June 2018 I thought the quality had gone down a bit. Let's hope it was an accident and, unless you tell me you had a bad experience yourself, I'll keep recommending it (and, what do you know, their competitors may feel inclined to invite me to try them out and compare...).
You'll exit the boat at 10.55 pm: you'll be nicely full, a little bit drunk,
and at the foot of the Eiffel Tower when it sparkles at 11 pm...
what more could you want?
(besides coming back to Paris some other time)
Otherwise, the only other cabaret I'd like to recommend is the Moulin Rouge
because it's the original place and it still has a soul, and because of its incomparable French Cancan!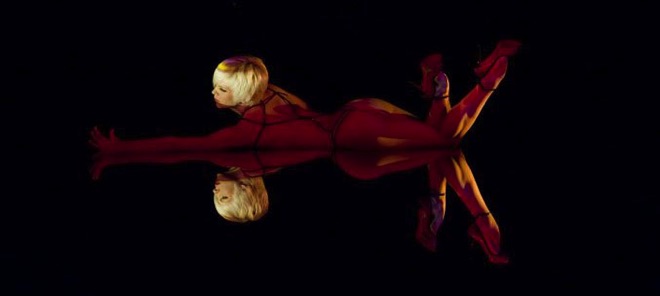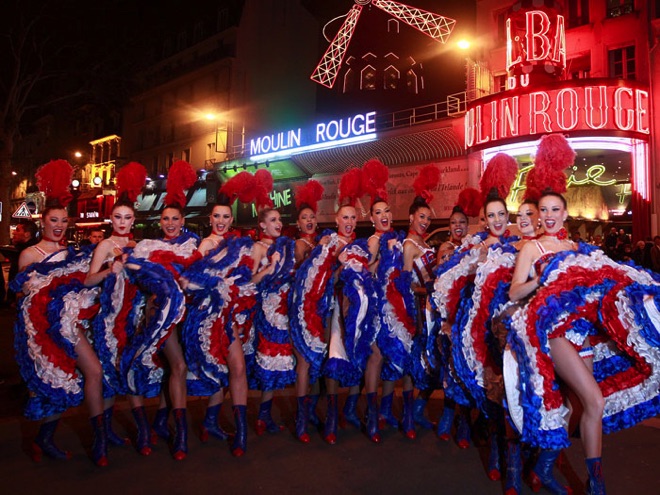 And of course there's a lot of other things you could do in Paris at night but
1) I don't care to list them all and sell you stuff
(there are other websites for that and there's nothing wrong with you visiting them).
2) Just visiting a fancy and delicious restaurant every evening
would fill your evenings in the most perfect way if you ask me...
And if you want to finish your stay in Paris on high note + impress your date
+ put him/her in a romantic mood, I highly recommend that you do the Dinner Cruise.