This "small" palace is located at the bottom of the Champs-Elysées. It's not a palace which was built for someone or where someone lived. It was built at the same time as the Grand across the street for the world fair of 1900 and was kept as a museum when the fair was over. It hosts temporary exhibitions but its permanent collections are quite interesting, particularly rooms with Art Nouveau furniture (that I fancy a lot).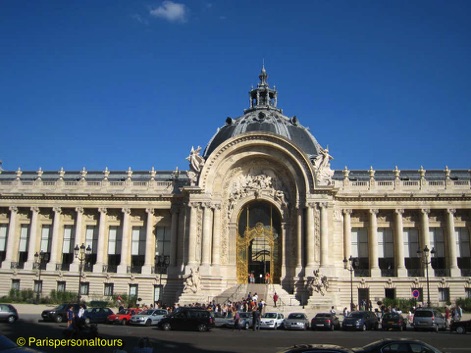 You can easily spend one and a half hours inside this museum. Nearby you can take great pictures of the Concorde square or the bridge Alexandre III. And, if it's a beautiful day, even for a local like me, its magic works...
This is a view from the inner courtyard. I'd love to take you there (but, then again, where wouldn't I take you to if I am available and you pay me?) but here's another museum that you can easily do on your own!
And, don't tell anyone: no line (except when there is a popular temporary exhibition), free entrance to the permanent collections and a very pleasant café inside the inner garden!