Did you know that this museum has the biggest collection of Claude Monet paintings in the world? Over 200 of them! (even though they show some of them by rotation). One which is almost always on display though is his «Impression, Sunrise »:
It was shown at the first exhibition of the painters who were later to be called the Impressionists (after an art critic pejoratively coined the name for their « horrible » style from that particular painting). In 1874, for that first exhibition, which took place at 35 boulevard des Capucines (near Café de la Paix, inaugurated 12 years before), they were calling themselves the « Anonymous Cooperative Association of Painters, Scuptors, Engravers ». It was only in 1877, for their third exhibition, that they officially took the appellation of « Impressionist painters » (against the will of Renoir and Degas).
Now, in 1874, for that first exhibition of those painters « who were later to be called Impressionists », during the 4 weeks that their exhibition lasted, they attracted around 3.500 visitors (says John Rewald in his brilliant « History of Impressionism ») which was nothing compared to the 400,000 visitors who went to the official Salon. And the people who came to see those « new » artists, what most of them had in mind was to have a good laugh and to give each other nudges giggling in front of the paintings… Look at the four cartoons here below which were published in the newspapers during the following years, I find them hilarious!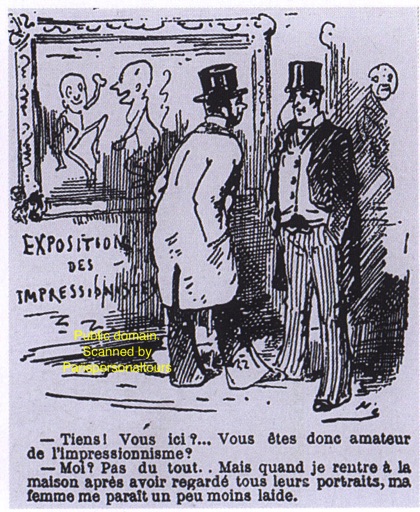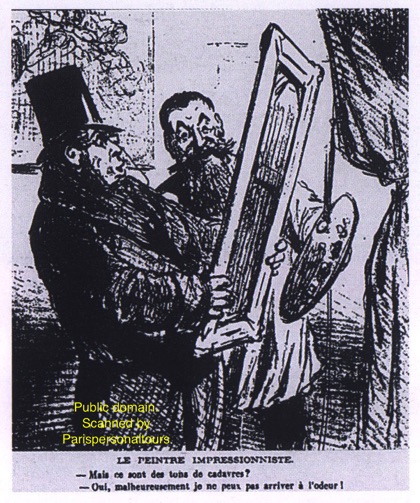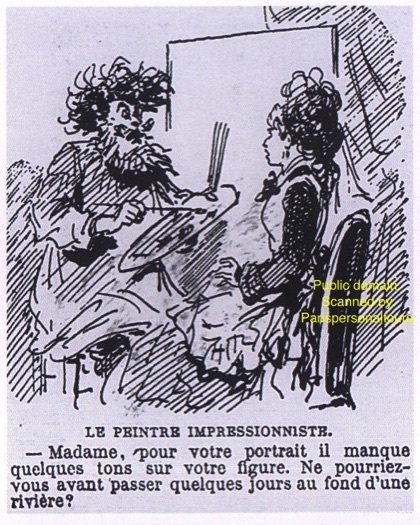 To the pregnant woman:
- Madame! It's too dangerous for your condition.
Go away!
- Really! You here? So you are an Impressionism afficionado?
- Me? Not at all... But when I go back home after having looked at all their portraits, my wife seems a little less ugly.
- Madame, for your portrait, some colors are missing on your face. Couldn't you spend a few days at the bottom of a river?
- But those are cadaver shades?
- Yes, unfortunately I cannot reproduce the smell!
Now, no doubt they were mocked and laughed at, but they surely got their revenge and their name in the hall of fame in the end!
Back to Marmottan: you'll be happy to know that, besides the many paintings of Monet (don't you think the painter in the last cartoon looks just like him?), you will also see paintings by Manet, Renoir, Degas and Berthe Morisot. The visit itself takes just a bit more than one hour, maybe more if you are interested in Napoleon the first because Paul Marmottan, who gave this « hôtel particulier » (which now shelters the museum) in his will to the State, also gave his collection of paintings and a lot of pieces of furniture + decorative objects which all date from the time of the First Empire. It's therefore a good opportunity to talk about Napoleon's family members (and that ain't sad). Best places to mention Napoleon though are Invalides, Fontainebleau and Malmaison. Also, at Marmottan, they quite often host temporary exhibitions that are worthwhile seeing, so you will need to add some more time if there is one.
One more thing: the location of the museum is not so convenient (West limit of Paris) and it's far from the metro, so I recommend to take a taxi to go there and back (if we don't use my car).