Orsay is one of my favorite museums, even though it is the one which disturbs me the most.
It's one of my favorite museums because I love the building itself (and how it was turned into a museum; it was originally a train station) and the wonderful works of art that are inside, but it's also the museum that disturbs me the most because it's the only one I know where the "supposedly" permanent collections... are not on permanent display! (how silly). And we never know in advance what will be their choice of presentation for the month. But the good/unusual side of it, is that it turns me into an unpredictable butterfly, hopping from one painting to another depending on the moment I spot them... and where they use their special powers to inexorably lure me to them... you know, as mermaids do. But, even though this "hopping" effect does boost my enthusiasm (as if I needed that!), it can nevertheless be a bit disturbing if you want to methodically show the progression of an artistic movement and/or of the artists.
However, whatever they have in display, it is always totally worth seeing and commenting. Whether on a guided tour or on your own, you're bound to have a good time at Orsay!
And there's one painting that they seldom move, as it's considered THE icon of the museum (some call it "the Mona Lisa of Orsay"), it's this amazing self-portrait of Van Gogh: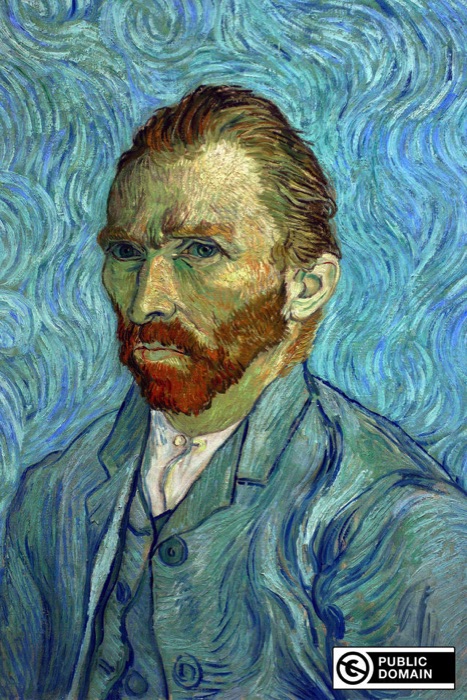 About Van Gogh's self-portraits, did you know that he was the second famous painter for the number of self-portraits achieved? He did 35 of them (I'm only counting the paintings. 27 were done while he was in Paris). There are several reasons that Van Gogh painted himself so often: not only because he was trying to paint his emotions and he had so many, but also because he couldn't afford to pay a model to pose for him and a lot of them were scared by him and would refuse to be left alone in the same room with him!
What a fascinating painter and character… I could talk to you about him for hours (especially at Auvers/Oise)… And I will! (if you let me). I mean: I'M MAD ABOUT THE GUY!