Last (but not least) of the walking tours that I offer is this one dedicated to my American clients
(who, I'm glad and proud to say, represent 80% of my customers) (but I love the remaining 20% too!). Oh, by the way, check out this picture of me taken in the Hôtel Pontalba, the official residence of the US Ambassador in Paris where I had the priviledge to be invited at in 2017:
This portion of the tour will have lasted between 1,5 and 2 hours and we could stop there if it was a small add-on to a morning tour or it could be the prelude to a bigger picture with different options described below:
We can add one more hour by walking to OUR Statue of Liberty (in fact we have many Statues of Liberty in Paris but this is the biggest one that we've got: 1/4th the size of the one in New York.
Why did we send you a Statue of Liberty? Whose idea was it? Who made it? How was it made? When was it made? Why do we have this rather big version? I bet I can teach you quite a few things about her!
I'll be happy to refresh your memory and tell you from our point of view the beautiful story of the unique mutual friendship and fascination that Americans and French have "impacted" on each other.
From there we can take a train to Versailles or back to the center at Orsay or the City Island.
Or we could take a taxi to the other side of town to visit the tomb of Lafayette ! It's in a small charming hard-to-find cemetery with irregular opening hours but it can be done!
Or, easy: we end this tour at the foot of the Eiffel Tower so that you/we can go up (booking recommended here) and/or you/we do the dinner cruise starting from the foot of the Eiffel Tower.
And if you chose your hotel room or flat near the Arch of Triumph like I told you, you would have time to drop-by, change clothes and freshen up if you wish. Just saying...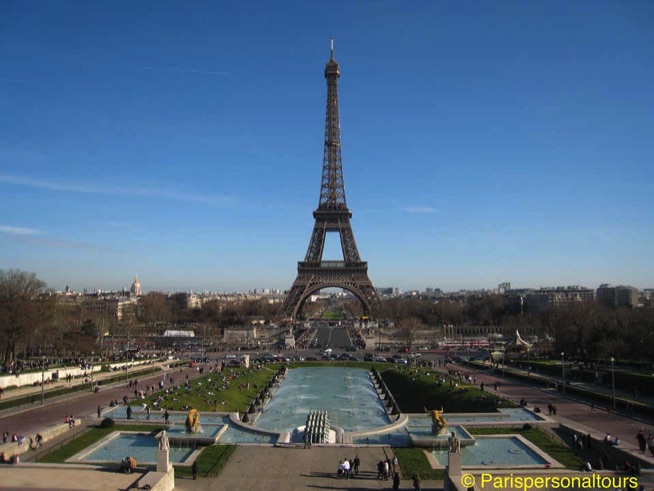 View from Trocadero Square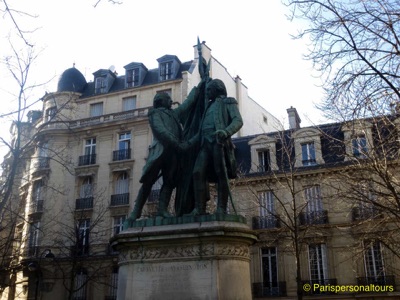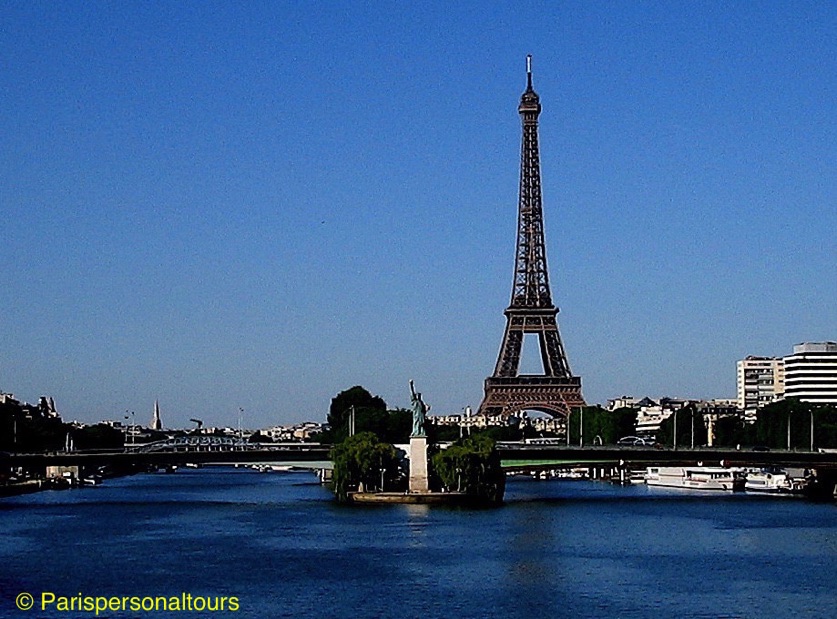 Now, back to the Paris-Americana tour itself: the idea is to start at the Arch of Triumph (so that you can know all about it). I will mention the location on the Champs-Elysées where Jefferson lived while he was here (the house no longer exists) and, on the way to the Trocadero Square (where you have one of the best views overlooking the Eiffel tower - picture below), we will see the Washington and Lafayette monument. Then we'll see the Yorktown Square with an interesting statue of Benjamin Franklin (he was and still is a real star over here).
Please take notice that this tour HAS to be done in the afternoon, otherwise the sun is not right!