You think it's just a cemetery? Wrong: it's the biggest (108 acres) and most beautiful park in Paris and, if you ask me (and many others), it's a UNIQUE must-do thing, whether with me or on your own. If you go on your own, they do sell maps at the entrance (or give them for free if you can find the place inside) but 1) they are not reliable 2) I bet you 10-to-1 that you will be schvitzing and schlepping from one tomb to the other.
If you go with me (recommended option), I will make sure there is no schvitzing involved but there might be a little bit of schlepping (sport shoes are still a good option)…
Can you tell that some people don't only take pictures? (Ooo la la!)
And look at the two pictures here below of Oscar Wilde's tomb:
The first picture was taken in 2009, when admirers (how can you not admire his wit?) were kissing his tomb with lipstick, the second was taken now that it has been restored and protected with a glass wall.
We would have to spend the whole day inside the Père Lachaise if we wanted to see all the famous tombs (don't tempt me!). Choices will have to be made, I will give you options, but it's difficult to spend less than 3 hours on location.
if we go in the morning, I know the perfect place to sit down afterwards, where we can also eat well and take a rest! After lunch you just need to tell me if you want to:
1) go back inside. 2) go somewhere else. 3) call it a day. It all suits me.
And if we visit after lunch (for digestion), we can go afterwards to an absinthe bar and raise a glass to Oscar Wilde as a way to celebrate our return to the world of the living!
As you will see on my pictures below, there will be tombs with skulls on them (which will delight your teenage children or grandchildren if you have some) but the visit is anything but spooky (unlike the catacombs) because the Père Lachaise is a haven of peace and beauty.
Whatever option you choose: this visit will enlight and enrich your life in many ways.
Honestly, you have never seen or experienced anything like it!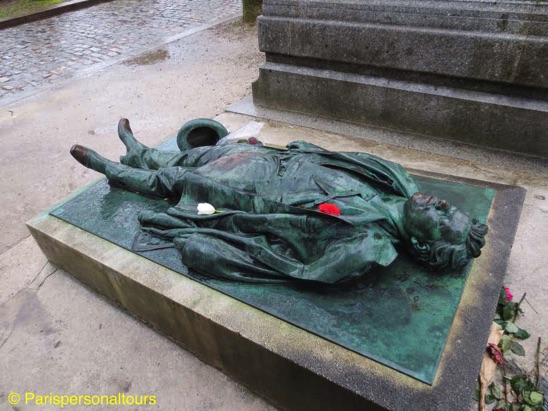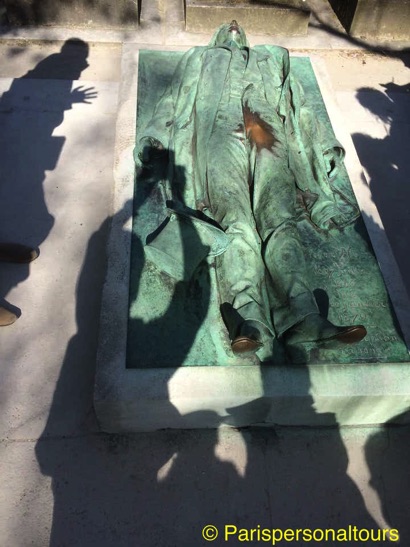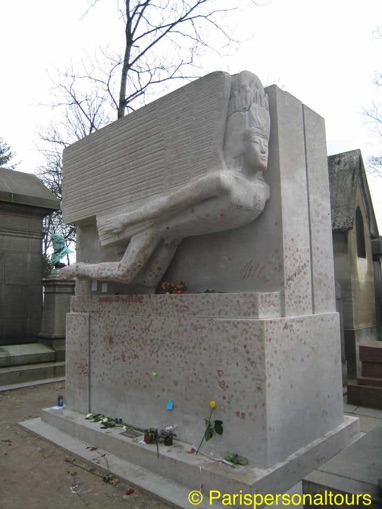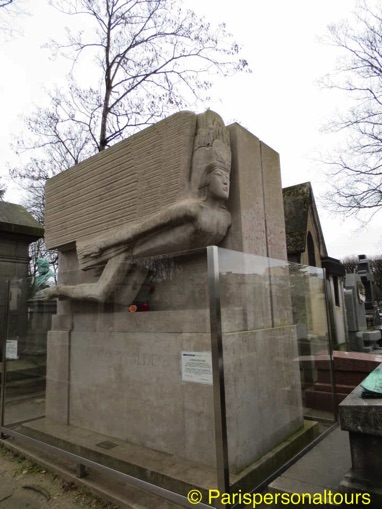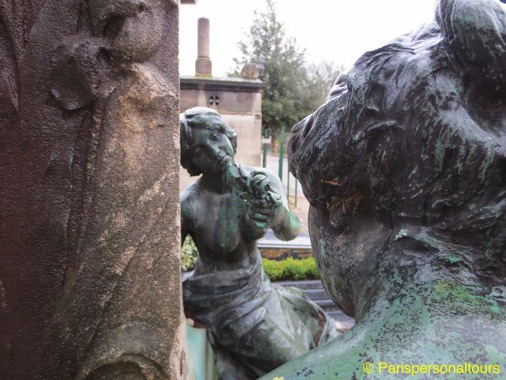 Just give me 3 to 4 hours of your time (9 am to 1 pm or 2pm to 6pm) and I'll have you schlepp (but almost no stairs to climb and it will be mostly downhill) like you never schlepped in a cemetery before BUT I promise that, except the walking (which is unavoidable), it will not be painful at all. At no moment will you be out of breath and I promise it will be highly enjoyable as I will make many stops with opportunities to sit down. I'll operate like for the Montmartre tour: I'll start at the top of the hill and I'll finish at the bottom (which is the main entrance) which makes it a lot more pleasant!
I will take you see the tombs of famous people like Oscar Wilde, Edith Piaf, Jim Morrison, Gertrude Stein (and Alice of course), Isadora Duncan, Sarah Bernardt, Chopin, Corot, David, Delacroix, Ingres, Modigliani, Pissarro (yes, there is a Jewish section) and so many others as they go by the hundreds! Indeed on this tour I intend to mention over a hundred tombs, and not only the tombs of Forever Famous people (like the ones I just quoted) but also a lot of tombs of Forgotten Famous people who had amazing lives and/or still have unique graves. And I bet you that the stories of all the people I selected will amaze you and entertain you in a tremendous way! (that's the idea anyway).
And, you'd never guess, there are also tombs of Famous Forgotten people who were not that famous during their lifetimes but who gradually attracted a lot of visitors with special rituals. Take the tomb here below for instance…