The palace of all superlatives...
Originally a small hunting lodge of Louis XIII in the middle of a swamp at the beginning of the 17th century, it was transformed by his son, Louis XIV, into one of the most beautiful palaces ever built with one of the most beautiful gardens ever created. The building and the art exhibited there are incredible, but it is so pompous (and meant to be) and almost always so over-crowded that your visit can turn out to be a very unpleasant experience. Now, this would be a great opportunity to use my services: not only because we can skip the line, but also because, over the years, it has become one of my specialties! The visit inside takes between an hour and a half and two hours, depending on how much you can take because there is so much I want to tell you about that I normally talk non-stop until you drop (unless you ask me not to).
Best time to visit is in the morning. If you have time, please do yourself a treat and allow some time for the gardens in the afternoon. I indeed highly recommend that you go (with me or on your own) to the Grand + Petit Trianons + Marie-Antoinette's hamlet in the afternoon. You might prefer to go there on your own and chill (I'll give you a map with a timed itinerary) or use my services again (and still chill, but with extra thrills): your excursion would then become a Versailles full-day and boy do I recommend that version!
In the half-day excursion, you won't have time to walk as far as the fountain of Apollo:
One last thing: I'm a big fan of Versailles, the series. So if you want to know what's true, what's not, and where exactly it was shot: you came to the right place!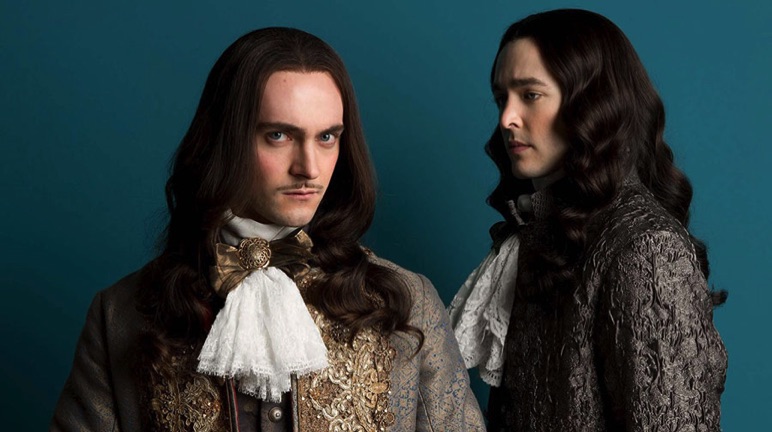 George Blagden and Alexander Vlahos are fabulous actors (among many others, and boy do they know how to choose the bad guys!). I didn't ask authorization to use this picture but I guess the studios won't mind that I advertize for them!
Oh, and here below are just a few pictures to give you an idea of what you'll get to see...
If possible, don't go to Versailles on a Tuesday because, as Versailles is closed the day before and Louvre is closed on Tuesdays, it's the busiest day of the week (together with Sunday) and inside it can quite easily be a madhouse (and do I know what I'm talking about). Also, on a Tuesday (and on a Friday as well) during the high season, you have to pay to visit the gardens and all they mostly do is to play taped classical music and most of the fountains are not even on! You'll be happy to pay to see the gardens on Saturdays and Sundays because only then will the fountains be working (but not all day long so you have to work on your timing which will be a little complicated). Gardens are free on Wednesdays and Thursdays only (but the fountains are not on). It all works.

but you'll have time to go see (quickly) the fountain of Latona: