Monet? What a man, what a man, what a man…
When he moved to Giverny, he was 43 years old. And he lived there the next 43 years of his life. Had he wanted to calculate it in advance, he could not have done it better…
You don't really need a guide at Giverny (the house, the garden, the pond: just those three will make your day) but you need a driver (or a bus tour) because it's quite a hassle to go there with public transportation and, if you wanted to add a little depth to your experience, I could be your man (just saying).
Monet lived the best and the worse times of his life at Giverny. Yes, few visitors today realize that this beauty had a high price of difficult ordeals for him to pay… and there is a lot more to discover than what you see when you go to Giverny (like there is a lot more to Montmartre than the "big white church" and the square with the painters).
Take his water lilies/nympheas, Monet said of them:
"It took me time to understand my waterlilies... I had planted them for the pleasure of it; I grew them without ever thinking of painting them... A landscape doesn't permeate one's being in one day... "
and
"Suddenly I had the revelation of how magical my pond is. I took up my palette. Since that time I have scarcely had any other model."
Indeed, he spent the last 29 years of his life painting them! They became his obsession, his passion, his challenge, his masterpiece... So much more can be said about them!
Let me amaze you with a « behind the scene(ry) tour »…
5 hours will do, including an unusual walk in town and a memorable lunch (at your expense of course, but it's a steal).
Whether you go in the spring to see the wisteria and irises, or at the end of August to see the sunflowers, or any other time of the year (from April until October), you're bound to be enchanted by your visit.
And if you want to make it an EVEN MORE incredible day, you can add Auvers/Oise or Versailles for the afternoon and make it a full-day unique and memorable excursion. Your call…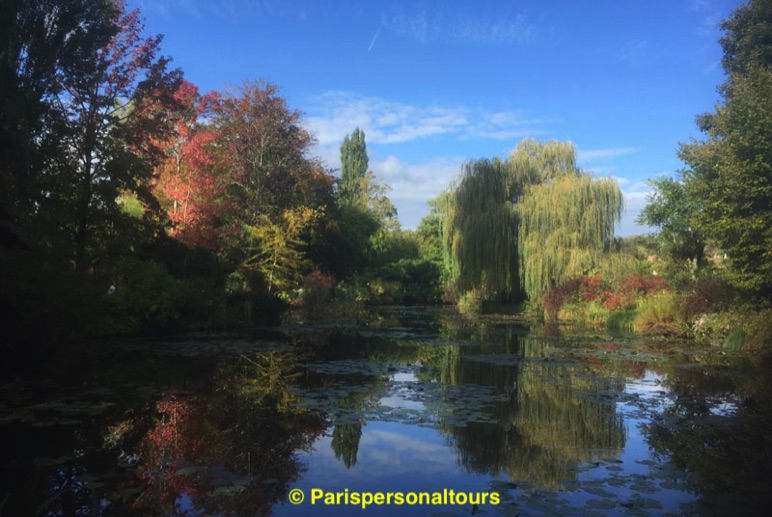 Giverny - House of Claude Monet