(except Mondays and Tuesdays)
The main idea of this unusual trip is to show you two interesting and unpredictable museums : the Louvre-Lens museum and the Roubaix museum (descriptions below). Those two museums are quite famous for the French (as their inauguration was quite well advertized on TV and in magazines) but not very famous abroad (especially because most tourists have little time here and they have other priorities) but, again, if you've been there/done that, you'll be delighted with this unusual trip !
We can also make a stop for you to buy a portion of fries (as long as you don't bring them back in the car) at one of the most renowned local vans which is where you supposedly are able to eat the best fries ever.
And then we will have a 2h30 drive back to Paris with an arrival time around 9 pm, which is maybe a little bit late for you (and for me) for dinner... And that amounts to almost 6 hours driving (on a total of 12 for that day) which is a lot for you... and for me... I mean, it's totally doable but 1) if I'm available 2) if you have what it takes (mainly time and money), I highly recommend you choose the 2 day version of this tour!
You all know the Paris Louvre museum, you may have heard of the Louvre Abu Dhabi inaugurated in 2017, but very few of you know that there is another Louvre in the town of Lens (which is 120 miles North of Paris). The "Louvre" was first a name, it has become a brand name which amazingly gives instant fame and credit to whatever town uses it: in the case of Lens, the right to use the name "Louvre" was a gift from our Ministry of Culture; as far as the United Arab Emirates (which are "loaded") are concerned, they had to pay 400 millions Euros just to use the name "Louvre" for a period of 30 years only (until 2037)!
The Louvre-Lens was inaugurated in 2012 on the site of a former coal mine which had been abandoned in 1986. The idea was to decentralize art and culture from Paris to the benefit of the province, particularly the North of France which lacks touristic attractions... They had planned for 700.000 visitors the first year, they reached 900.000 visitors. Success? In a way, yes but now that the locals have satisfied their curiosity, the numbers have dropped under 500.000... BUT : that's where we come in!
What an interesting place to bring you to! It was originally a swimming pool (where, believe it or not, my late beloved mother learned how to swim! As she was originally from the North of France before she moved to Paris). In 1932, when it was inaugurated, this Art-Deco masterpiece was considered as "the finest swimming pool in France". It closed in 1985. In 2001, it was inaugurated as the "Art and Industry Museum" after a subtle makeover by Jean-Paul Philippon, the same architect who remodelled the Orsay train station in Paris (it says it all) but it is still commonly referred to as "la piscine" (the "swimming pool"). It hosts not only a huge collection of fabric samples from local textile factories but also several donations of private art collections have enriched it with works from Rodin, Claudel, Ingres (to name just a few of the most famous) and many unusual pieces. Its uniqueness comes from the remaining pool in the main hall with works of art on both side and cabins on the upper level.
Now, we can indeed do both museums in just a single day but that involves a lot of driving: 2 hours from Paris to Lens, we can spend 3 hours there (including a nice lunch) then 40 mn to Roubaix, spend a couple hours there, then we would go to Lille (20 mn drive) to do a little walking tour and so that you can try (and so that I can buy !) the best waffles you'll ever have in one of the most beautiful shops you've ever seen: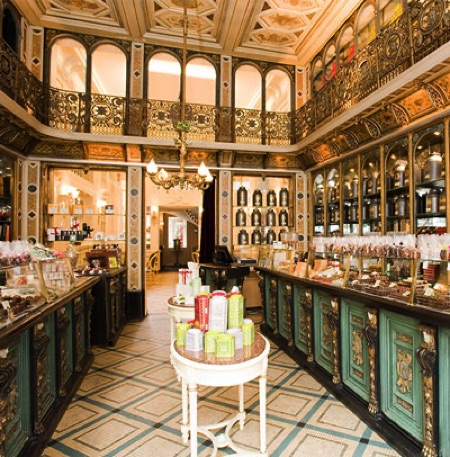 What's interesting (and works in the plan to attract repeat-visitors) is that this museum has no permanent collection: it hosts temporary exhibitions and displays for one year only around 200 masterpieces from the Louvre Paris. I like to see works of art out of their usual context because it generally helps us to see them in a new light. I also like the concept of its "Time Gallery" where 200 selected works show the evolution of art through time from the Antiquity until the middle of the 19th century.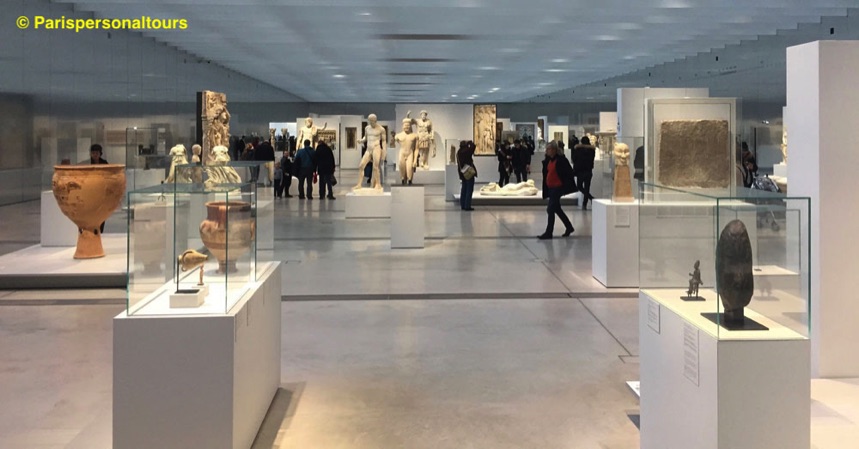 It is quite interesting to compare the arts of the East VS the West at the same time period and with a timeline in order to see how they evolved (sometimes regressed) through time. It is therefore the right place to get your knowledge of History of Art together!
In short, the Louvre-Lens is not a must-do-thing but it's an interesting and unusual place to visit.
But the main reason I created this excursion was mainly to give me the opportunity to bring you to: