There are many ways to approach Normandy. Under a varnish of simplicity, it's a very complex and subtle region. My main motivation to bring you to Normandy is to show you its natural charms and wonders, its quaint towns
and harbours, and, last but not least, to make you walk in the footsteps of Claude Monet along the Seine river.
If you are only interested in the Landing Beaches, please click here.
Otherwise please continue on this page.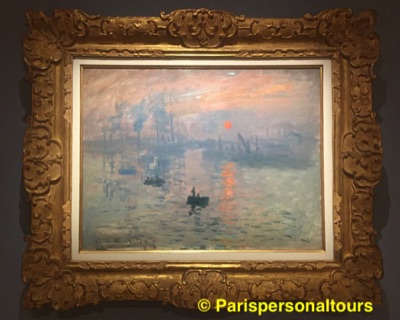 "Impression, sunrise" - Claude Monet (1873)
Even if you've been to Giverny before, if we want to do this tour right, you will want to go again on this tour because:
I do have a lot of information to tell you about Claude Monet, his house, his garden, his neighbors
and his tomb at the cemetery. For example, did you know that, beside his house in Giverny that draws nearly
700.000 people every year, Monet owned two other houses on the other side of town and that they still exist?
Also, from one week to the other (as I go there quite often), it's never the same garden you are visiting
and my sincere opinion is that you can never come too many times to Giverny.
And do I know the perfect place for us to have lunch at!
After lunch, we will drive to Rouen and, on the way, we can make a picture stop for the castle of Chateau Gaillard: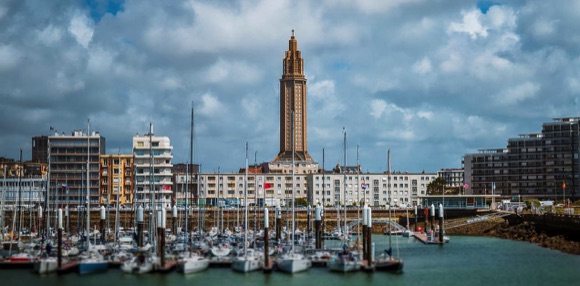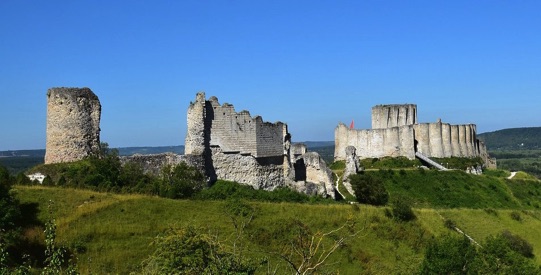 It's the fortress which was Richard the Lionheart's pride and which was finally cunningly conquered
by king Philip Augustus of France from King John of England (brother and successor of the late Richard).
Time to be spent there to be debated because there's a lot of steep-walking if we want to go to the top.
We will later arrive in Rouen:
where we will visit the old town and of course the Cathedral that Monet painted more than 30 times!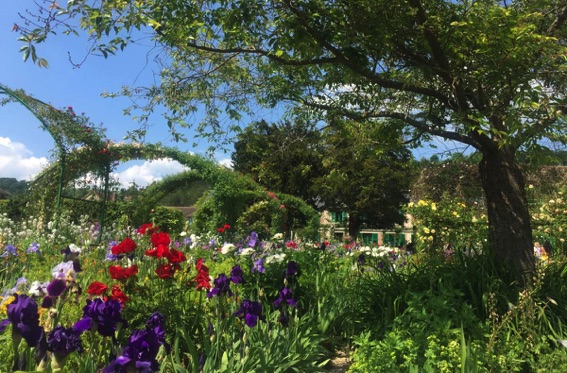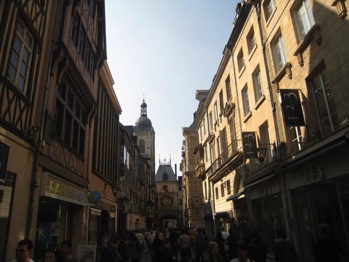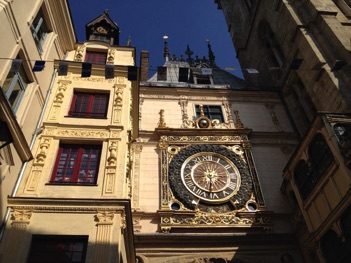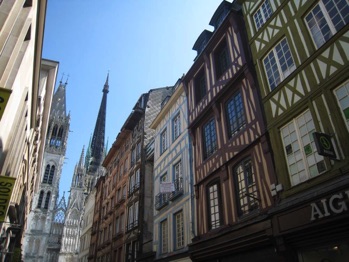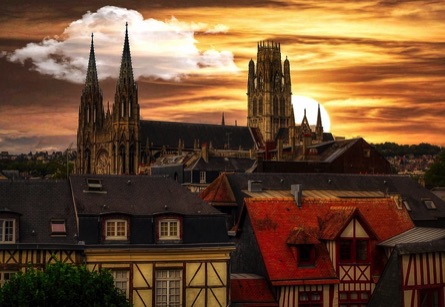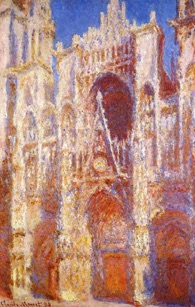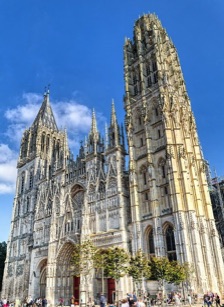 The next day, we can drive towards Le Havre. On the way, even though it's not necessary (and we don't have to),
I like to cross the Seine river at one point by putting the car on a small ferry boat, just for the pleasure of the crossing.
On the way also, we can stop to admire the magnificent ruins of the Jumièges abbey
that Victor Hugo refered to as "the most beautiful ruins in France".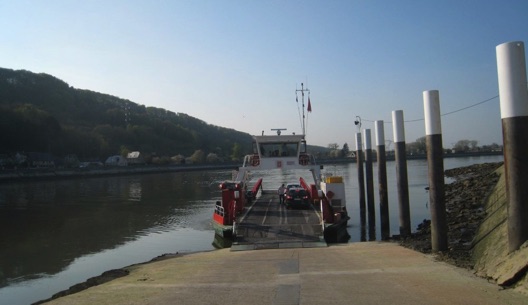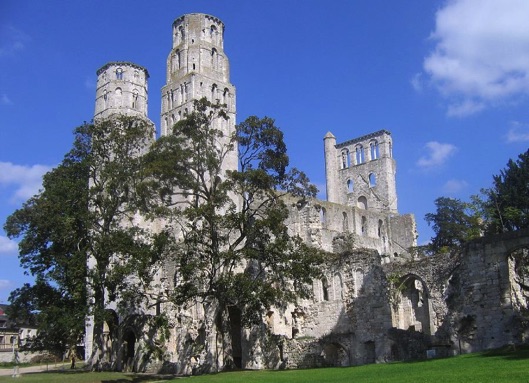 From there, I like to take the "Route des chaumières" (Road of the thatched cottages) because those houses are so cute!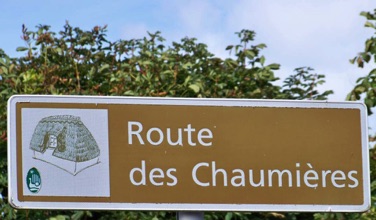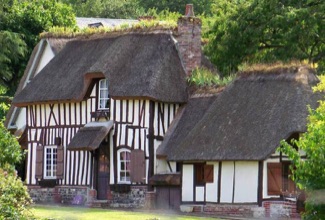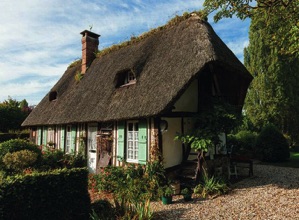 Then we arrive to Le Havre:
We won't stay very long in Le Havre (unless you're into modern post-war concrete towns, I'm not),
just long enough to see the balcony from which Monet painted this worldwide famous painting:
which gave its name to the Impressionist movement.
(I did already mention it here).
And from Le Havre we can go a bit further north (30 mn drive) to see the amazing cliffs of Étretat: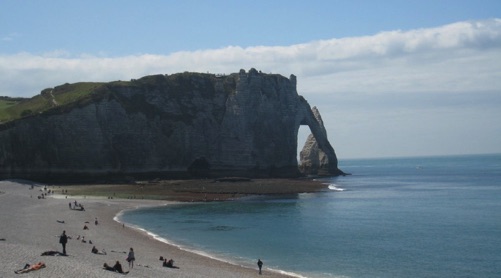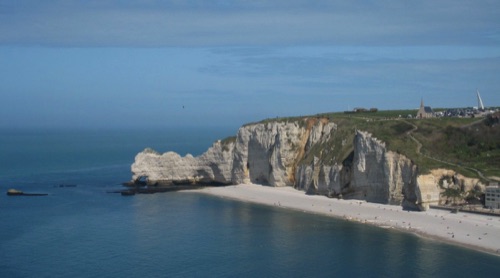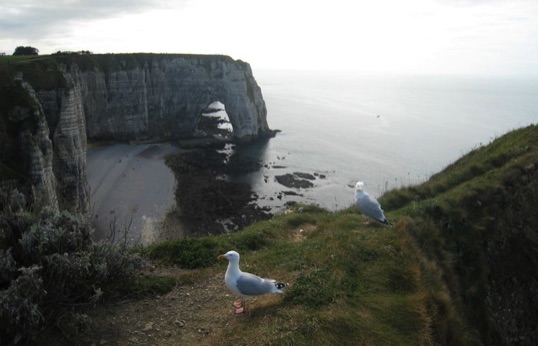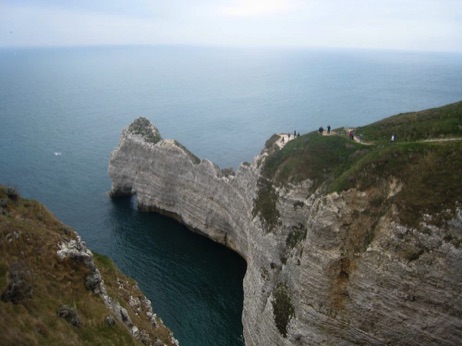 Isn't this the perfect spot to bring your mother-in-law to so that she can admire the view?

There are many very nice little towns in the area but, as your days will be numbered,
we may choose at this point to drive back west and cross the Normandy bridge: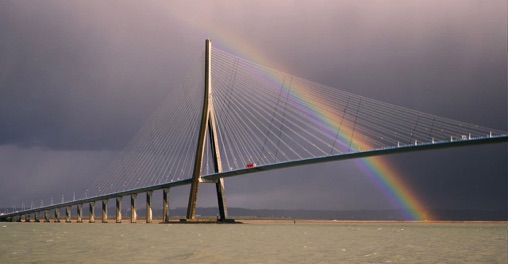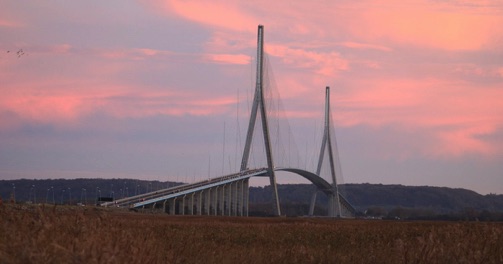 And arrive to the charming harbour of Honfleur:

We could spend the night in Honfleur and/or go to one of chic hotels of Deauville just 30 mn drive away: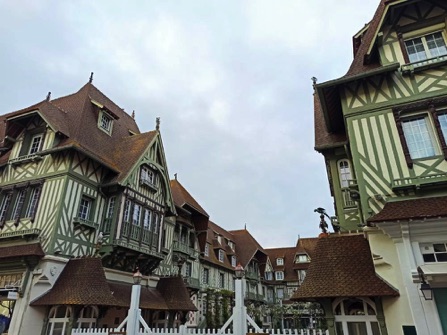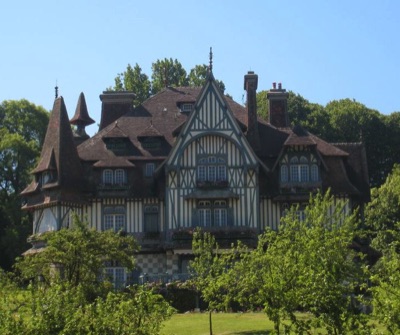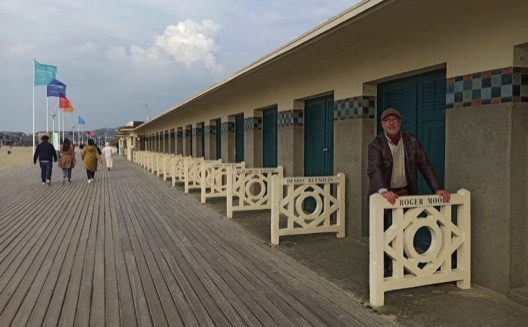 At one point, we'll find time to take a stroll on the Promenade des Planches,
where beach closets are dedicated to famous actors and moviemakers that have come to Deauville:
Just a half-hour drive away, I really like the "William the Conqueror Art Village" at Dives-sur-Mer.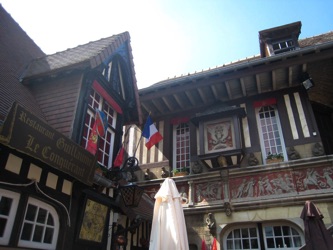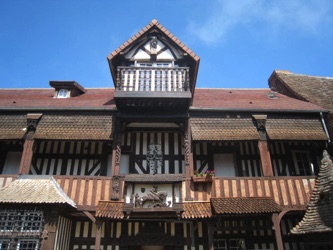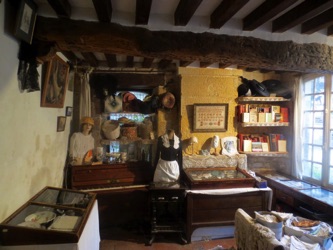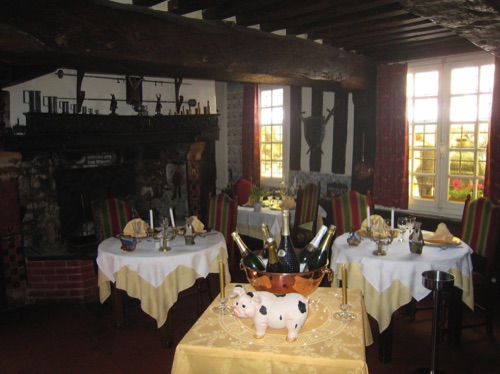 Or, if you want something less rustic, more modern, we'll be 5 mn drive from Cabourg and its Grand Hotel: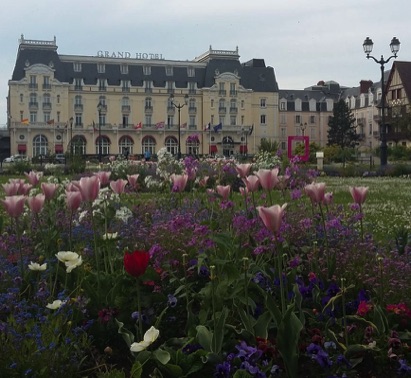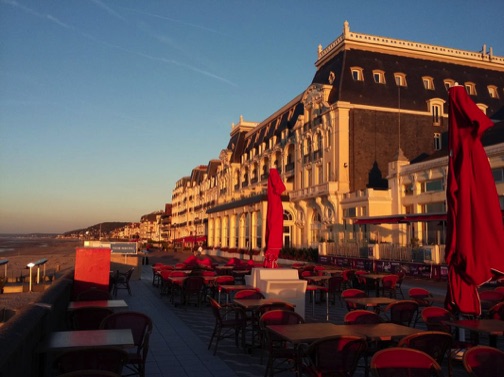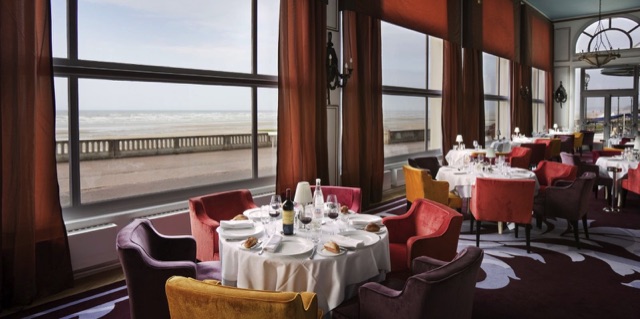 In Cabourg, we can go in search of Marcel Proust's lost time, but we won't have to search long
for the best madeleine cakes of the region... And I'll also have you try the REAL macarons!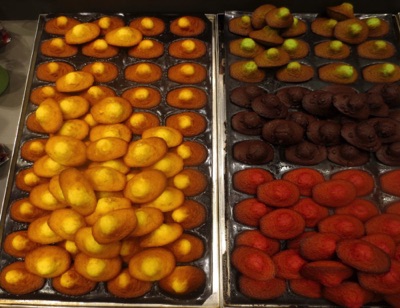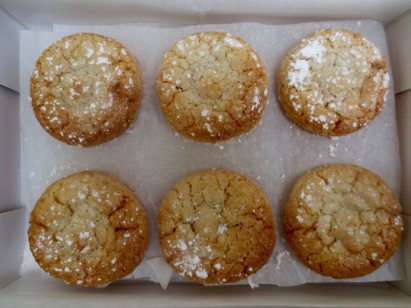 From there, we continue west to Bayeux where we can go see its world-famous tapestry and/or go visit the cathedral.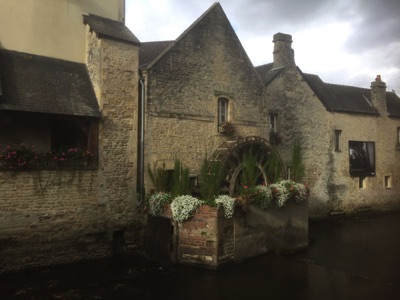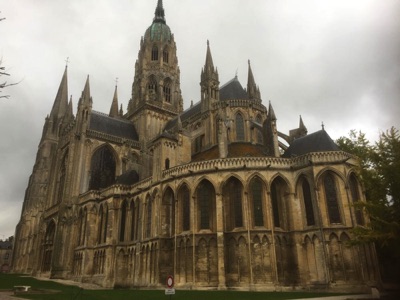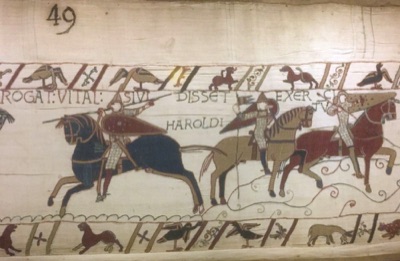 Bayeux is a good town to start your one-day excursion of the Landing Beaches, remember?
I could leave you there in good hands or we could continue further west to the Mont-Saint-Michel: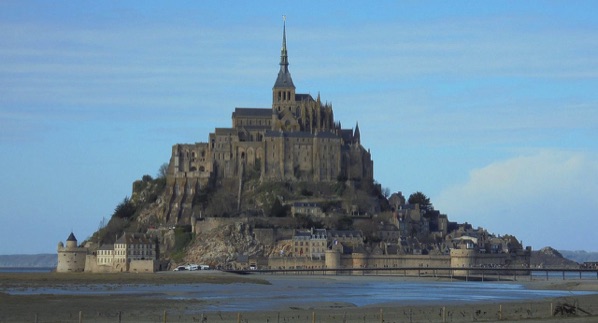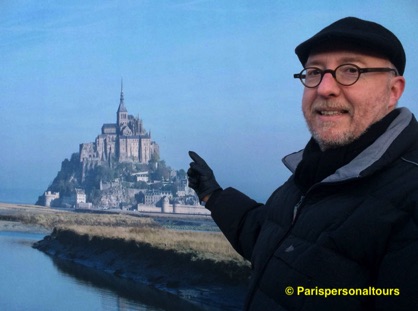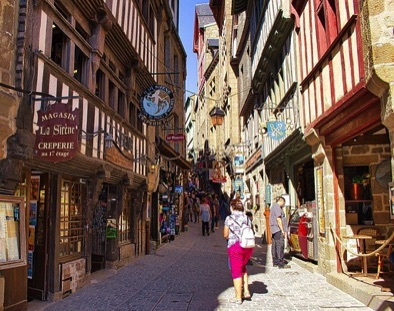 Mont-Saint-Michel in summer can be as crowded (if not more) than Montmartre in Paris or Rocamadour in the Périgord,
in fact those 3 places are all overcrowded places of pilgrimage (mostly tourists), but there's nothing wrong with that!
From Mont-Saint-Michel, we have a 4-hour-non-stop drive back to Paris, we can drive back through other roads
in Normandy, through part of Brittany, we can stop at Chartres on the way back, it all works!
The only question is: how many days have you got?
You would never guess but this picture was shot in Paris!
And I can prove it here.